Why is Keyword Research Important?
Have you ever noticed that effective digital marketing strategies all have something in common? It's keyword research. 
In the ever-evolving realm of digital marketing, keyword research remains a cornerstone for success. It empowers marketers to optimize websites, targets specific traffic, and generate leads through a combination of user-centric content and data-driven insights. 
Today, SEO has evolved and encompasses various verticals, but at its core, it's about identifying online opportunities and driving relevant traffic to your website. And keyword research plays a vital role in this strategy.
What is Keyword?
A keyword is a term that accurately sums up the information on a given website or article. It's the search phrase you want to rank for on a specific page. People should be able to discover a certain page on your website when they use Google or another search engine to look for a keyword or phrase.
What is Keyword Research?
Keyword research is the process of uncovering popular words, phrases, and search terms that people are actively looking for, particularly those with high search traffic. Search intent refers to how research links a keyword's importance to a website and each of its pages so that users can find the right page to answer their questions.
Furthermore, keyword research entails categorizing search queries into stages of the user journey and search subcategories such as transactional, navigational, and informational.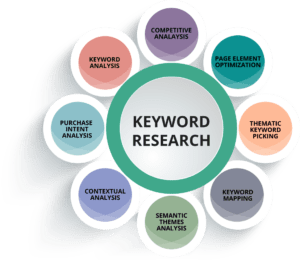 Through effective keyword research, people can find what they need:
Users who wish to investigate a specific brand can do so by researching that brand.

Customers who are looking to purchase can easily navigate to the appropriate product page.

A user who wants to know "how to can" finds a step-by-step explanation of a process on this page.
In addition, keyword research should also take into account whether ranking for a particular keyword would be worth the time and effort required to rank high and generate traffic. All traffic isn't created equal.
Process of Keyword Research
While basic keyword research can be done in a couple of hours, there should be a process in place to keep an eye on keyword trends and build new lists as your company's needs evolve.
The following are the fundamental steps to be followed:
Brainstorm:
Before you dive into out-of-the-box thinking, get your team to brainstorm the phrases that are common to your target audience on their buying journey. Instead of using technical terminology, use a language that is understandable to your audience.
Select an Effective Tool:
The industry is filled with both free and expensive SEO keyword tools. You need a powerful keyword tool if you want the greatest outcomes from your keyword research. For example, SEO tools such as Demand Jump will provide you with accurate search volumes, competitive URLs, and attribution insights.
Build Keyword List:
Begin with a primary keyword list that includes your core keywords, themes, and brand identity. You can also want to create secondary lists that focus on a particular product or service area or a particular stage in your marketing funnel.
Establish Your Baseline and Set Goals:
Save your lists and keep track of your ranking position so you can track your progress at a later date. Set targets around the keywords you want to improve your ranking for.
Below are the Best Keyword Research Tools
There are numerous research tools available to assist you in developing your keyword strategy, however we will highlight some of the best here:
SEMrush: SEMrush is a search engine optimization (SEO) tool that compares domains and analyzes keywords and positions in Google and Bing's organic search results. 
MOZ Keyword Difficulty Tool: MOZ's Keyword Difficulty tool is a great tool to analyze competition and find the low-hanging fruit. It gives keywords a Difficulty Score based on their search volume and search engine results pages (SERPs).
Ahrefs: Ahrefs keyword explorer is like SEMrush but with extra features and an easy-to-use interface. It can predict how many searches will turn into real page views, run the largest database, finds opportunities, and aid in competitive research. 
Google Keyword Planner: Keyword Planner is Google's free AdWords tool. It is a great place to begin your research process. You will get a list of relevant keywords, metrics to measure competition, historical stats, and a new list of keywords. Unfortunately, it's been removed from some of its features, but you can fill in the gaps with Google Trends.
Why Keyword Research is Important?
Keyword research is vital for understanding customer behavior, improving search engine rankings, optimizing content strategy, and maximizing ROI. By conducting thorough keyword research, you can optimize your digital marketing efforts and increase your chances of success in the online landscape.
It is essential for several reasons:
Improved Website Visibility,

Targeted Traffic Generation,

Competitive Advantage,

Content Strategy Optimization,

ROI Maximization, and so on.
Final Thoughts
Keyword research is an integral part of digital marketing and SEO. By conducting thoroughly, you can optimize your website, attract targeted traffic, and generate leads. Take advantage of powerful tools and make data-driven decisions for your online success.
Remember, an effective research process is the foundation of a successful digital marketing strategy, helping you connect with your target audience and drive sustainable growth.
In addition to undertaking extensive keyword research, consider the advantages of employing a professional digital marketing agency. Their expertise and industry knowledge can maximize the potential of your digital marketing and SEO approach