10 Content Writing Tips to Boost Engagement and SEO Rankings for Businesses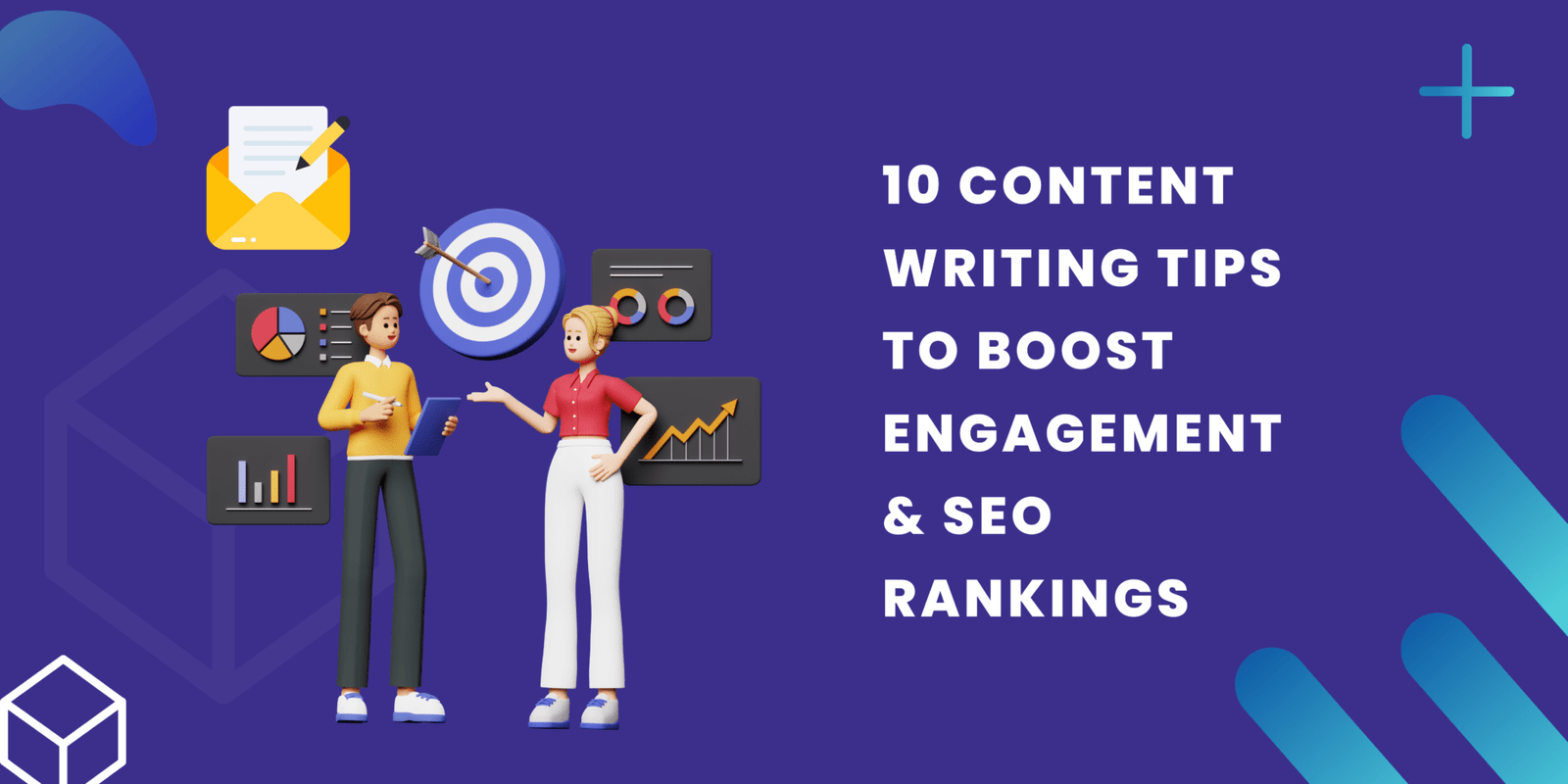 In today's digital landscape, content writing plays a pivotal role in capturing the attention of online audiences, driving website traffic, and promoting products or services. Well-crafted content can significantly impact a business's online presence, making it essential for marketers and website owners to understand the art of writing engaging content. In this blog, we will explore ten tips to help you create content that not only captivates your audience but also ranks higher on search engine results pages (SERPs).
What is Content Writing?
Content writing is a genre of marketing writing that is prepared expressly for an internet audience. It is used to promote products or services and increase visitors to websites. Content writers are frequently used by businesses to create compelling material for social media postings, blogs, articles, and sales copy.
The creation of SEO-friendly content is essential for a successful digital marketing plan. This entails performing keyword research on pertinent terms and creating optimized content that complies with search engine standards while fulfilling user intent. In addition to creativity to engage readers, an SEO content writer needs to be knowledgeable in data analytics, keyword research, and content strategy.
Importance of Content Writing
Content writing is more than just words on a page; it acts as a link between businesses and their target audience. Engaging content can convey information, solve problems, and trigger emotions, thereby connecting with readers. It promotes organic traffic, client bases, and ultimately conversions and sales. To meet these objectives, the content must be valuable, appealing, and well-optimized to improve both user experience and search engine exposure.
10 Tips for Writing Engaging Content that Ranks Higher on Search Engine

Know Your Target Audience
Understanding your target audience is key to boosting your website's ranking and attracting organic traffic. To create content that resonates with your audience, it is crucial to understand their needs, preferences, and pain points. Tailor your writing style, language, and tone to appeal directly to your target audience. Additionally, conduct thorough research to gain insights into their interests and motivations.
Conduct Keyword Research
The foundation of SEO content writing is keyword research. Choose appropriate keywords and naturally include them in your article. To optimize your content for search engines without sacrificing readability, strike a balance between using primary keywords and long-tail keywords. By combining informational keywords with your main business keyword, you can boost the relevance of your material. Always keep keyword density in mind when writing body text and meta descriptions for your web pages. The goal is to solve an issue for your readers while also providing them with a wonderful reading experience.
Optimize Headings and Subheadings
To leave a lasting impression in a short amount of time, make sure your headings and subheadings are optimized. Use headers and subheadings that are clear, interesting, and full of keywords. In addition to a catchy title, make sure your meta descriptions are interesting and offer further details about the subject of your post. It's crucial to make your title and meta description engaging as people see them when they search for your content.
Write Concise and Engaging Content 
Readability is crucial for high-quality SEO content. The secret to keeping readers' attention is readable content. Write sentences and paragraphs that are brief and easy to understand. Be mindful of the format of the article or blog overall, sentence length, and text structure. Remember that readers of all ages enjoy reading logical and well-organized content. By doing this, you'll keep your audience engaged and interested in what you have to say.
Incorporate Visuals
To deliver value to the audience quickly and engagingly, visuals are important components of SEO content writing. They also provide a good user experience. Images and videos can be optimized to help websites perform better in search engine results by changing the file name to include a keyword and adding a brief description that highlights the image's purpose for the content. According to research, videos and images that are relevant to the content receive more views than those that are not. Additionally, scaling images to the right display dimensions enhances the user experience and SEO.
Focus on Readability
To enhance readability, consider the overall design and formatting of your content. By utilizing subheadings and bullet points, you provide visual cues that allow readers to quickly identify the main points and grasp the overall structure of your content. By prioritizing readability in your content writing process, you create a positive user experience that keeps readers engaged and encourages them to continue reading and exploring your website. It also signals to search engines that your content is valuable and user-friendly, potentially improving your search engine rankings.
Incorporate Internal Linking
On a website, internal links are clickable text links that point to relevant pages elsewhere on the same website. They facilitate site navigation for users and raise the website's search engine rankings and visibility. Use descriptive anchor texts that are connected to the target keyword when linking from one page to another. Additionally, internal links distribute authority among pages, create connections between pages on the website, and aid search engine crawlers in finding and indexing new pages. This may result in improved search result rankings and higher relevance scores for specific pages.

Optimize Meta Tags
HTML attributes called "meta tags" give summaries of the contents of a page. They play a significant role in boosting click-through rates (CTR) because they are displayed on the search engine results page below the URL. Optimize meta titles and descriptions by including target keywords and natural language processing modifiers. Keep the title under 60 characters and the description under 160 characters to ensure they display fully on search engine results pages.
Proofread the Content Carefully
Grammar, spelling, punctuation, copy-and-paste, repeated words, and formatting mistakes are all examples of errors that are examined and edited during proofreading. The extra steps that SEO proofreading adds to optimizing for SEO are the usage of keywords and whether the content appropriately addresses the fundamental question or not. SEO proofreading aids in encouraging algorithms to favor content  and boost its rating. To check for errors and make sure best practices are followed, it takes a trained eye. Your SERP rankings will improve as your content quality improves.
Promote the Content 
Creating high-quality content is just the first step. Actively promote your content through various channels, including social media, email marketing, and collaboration with influencers. Share your content with relevant communities and engage with your audience to increase visibility and drive traffic to your website.
Conclusion
For businesses to succeed in the digital age, learning the craft of creating compelling content that ranks higher on search engines is essential. By following the ten tips outlined in this blog, you can create content that not only resonates with your target audience but also boosts your website's search engine visibility.
While content creation may require effort and time, the rewards in terms of increased traffic, engagement, and conversions make it a worthwhile investment. Take into account, if you find it overwhelming, consider seeking the assistance of a professional content writing company to help fulfill your SEO content writing requirements.