Search Engine Optimization (SEO) is a vital digital marketing tool that improves a webpage's visibility and accessibility. An SEO-friendly website is crucial for reaching customers actively searching for related products and services. It offers a cost-effective means to increase visibility in search engines like Google and Bing. By following an SEO-friendly website checklist, you can optimize factors such as design, performance, and content to enhance search engine rankings. This blog provides insights into how to make your website more search-focused and SEO-friendly, resulting in increased organic traffic.
What is an SEO-Friendly Website?
An SEO-friendly website is a well-optimized online platform designed to maximize its visibility and ranking on search engine result pages (SERPs). It adheres to best practices and guidelines set by search engines, such as Google, Bing, and others, to ensure that the site's content, structure, and technical elements are easily accessible and understood by search engine crawlers. This includes incorporating relevant keywords, creating high-quality content, optimizing meta tags, using responsive design for mobile compatibility, improving site speed, and obtaining high-quality backlinks. An SEO-friendly website aims to enhance user experience, attract organic traffic, and ultimately boost its online presence and credibility.
How to make SEO-Friendly Website?
Below are a few tips on how to become more SEO-friendly.
1. Unique Title and Descriptions for all Pages
An SEO-friendly website needs unique meta titles and descriptions for each web page. The titles should be around 50–60 characters, while descriptions can be up to 155-160 characters. Furthermore, these titles are important for search engines as they accurately inform visitors about the page's content.
2. List your website link in the Google business listing
Having an optimized business listing on Google is a great way to attract more traffic to your website. It's free and easy to use, and it provides brief information about your business, like its address, closing times, and website. Additionally, with visual representation, customer reviews, and ratings, your Google listing creates a brief introduction that catches the interest of potential customers. It can lead to increased traffic on your website and make it more SEO-friendly.
3. Clean URL Structure
Your webpage's URL should be clear and adhere to best practices for search engine crawling to develop an SEO friendly website. Make sure all permanent links are lowercase, descriptive, spaced by dashes, and may naturally contain keywords to improve exposure.
4. Run Social Media Campaign
Using paid media advertising to promote your online store or e-commerce website is a terrific strategy to increase visitors. You may target people interested in your items through social media platforms like Facebook, Instagram, and Pinterest. Moreover, you may retarget website visitors with Facebook Dynamic Advertising by displaying them the goods they previously looked at. Instagram is well-known for helping users interact with their intended audience, while Pinterest provides targeted pins and paid advertising to help you reach your target audience.
5. Use Keywords
Choosing the right keywords is important for improving your website's ranking on search engines. Moreover, to find suitable keywords, research popular terms and topics using tools like Google Trends or Ahrefs. In addition, use these keywords naturally in your content to improve the user experience and increase your chances of appearing higher in search results.
6. Use Header Tags
To create an SEO-friendly website, use header tags effectively. These HTML elements structure a webpage's content, aiding search engines in understanding it. Focus on <h1> and <h2> tags for titles and headings, incorporating relevant keywords. Furthermore, consistently apply this method to enhance SEO rankings and ensure search engine crawlers accurately index your site. As a result, your page will rank higher in search results, connecting you with the appropriate audience.
7. Include Keyword-Rich Anchor Text in Your Links
Anchor texts are clickable words that take users to other pages. They help search engines understand the content and improve rankings. For SEO-friendly anchor texts, use keywords related to your website. For instance, if linking to an SMO tips page, use anchor text like "Learn SMO tips" or "SMO strategies." Relevant and concise anchor texts are important while avoiding keyword stuffing to maintain good SEO.
8. Unique Content
It's important to have original content on all your web pages and avoid copying content from others. Search engines penalize websites with plagiarized content, which can harm your website's SEO performance. Additionally, make sure your content is unique to maintain a high level of SEO friendliness.
9. Optimize Image
Optimizing images for SEO is a great way to improve your website's visibility in search engines. Follow these steps to make your images SEO-friendly and boost your SEO performance.
Give each image a relevant file name with keywords related to the image's content.

Resize your images to reduce file size and prevent slow page loading.

Compress images while maintaining quality using tools like Smush or EWWW Image Optimizer for WordPress users.

Add alternative text (alt text) to describe each image for better search engine recognition.

Consider adding short captions to provide more context and enhance user experience.
10. Use Google Tools
Analyzing the core metrics of your website is essential for creating an SEO-friendly site. However, tools like Google Search Console and Google Analytics are free and can provide valuable insights. In addition, with Search Console, you can see how your site performs in Google searches, view organic traffic, and identify issues like duplicate content or broken links. Moreover, Google Analytics offers metrics on your site's performance overall, such as bounce rates. These tools help you understand how your site is viewed by Google and allow you to address any problems for better performance.
Why Is It Vital for a Business to Have an SEO-Friendly Website?
Let's have a look at why it is vital to have an SEO-friendly website for businesses.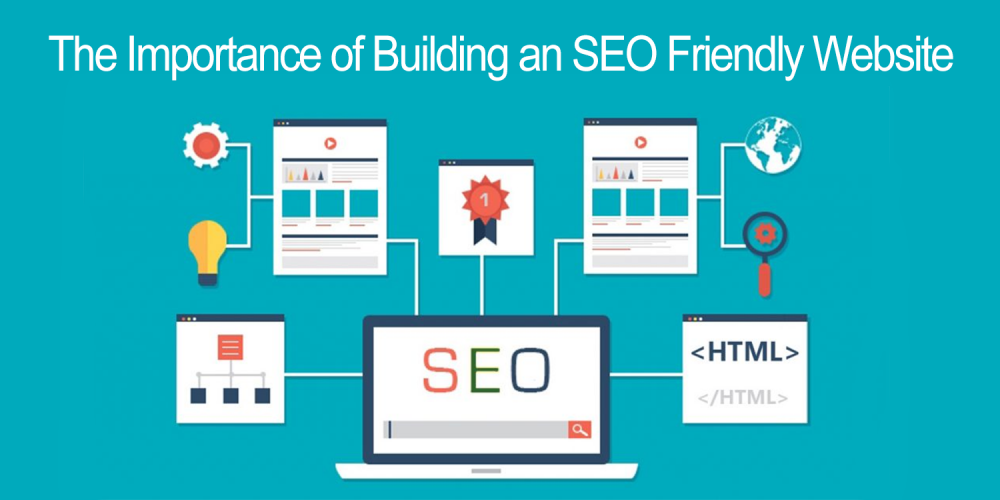 Targeted Traffic and Leads: SEO optimization helps attract relevant traffic by targeting specific keywords, increasing the chances of converting visitors into leads and customers.
Credibility and Trust: Websites ranking higher in search results are perceived as more credible and trustworthy, instilling confidence in potential customers about the business and its offerings.
Cost-Effective: Compared to traditional advertising, investing in SEO offers a cost-effective long-term marketing strategy, delivering sustainable results.
Improved User Experience: SEO involves optimizing website structure and content, enhancing user experience and navigation, leading to higher engagement and satisfaction.
Wrapping Up
Creating an SEO-friendly website is crucial for enhancing visibility and attracting organic traffic. By following the provided tips, such as optimizing titles and descriptions, utilizing social media campaigns, incorporating keywords, using header tags, and creating unique content, you can improve your website's search engine rankings. Additionally, taking the help of a professional website designing company can further optimize images, utilize Google tools, and establish a proper content structure, effectively reaching the target audience and driving business success.
Read More