5 Reasons Why Content Marketing Is Important For Your Business?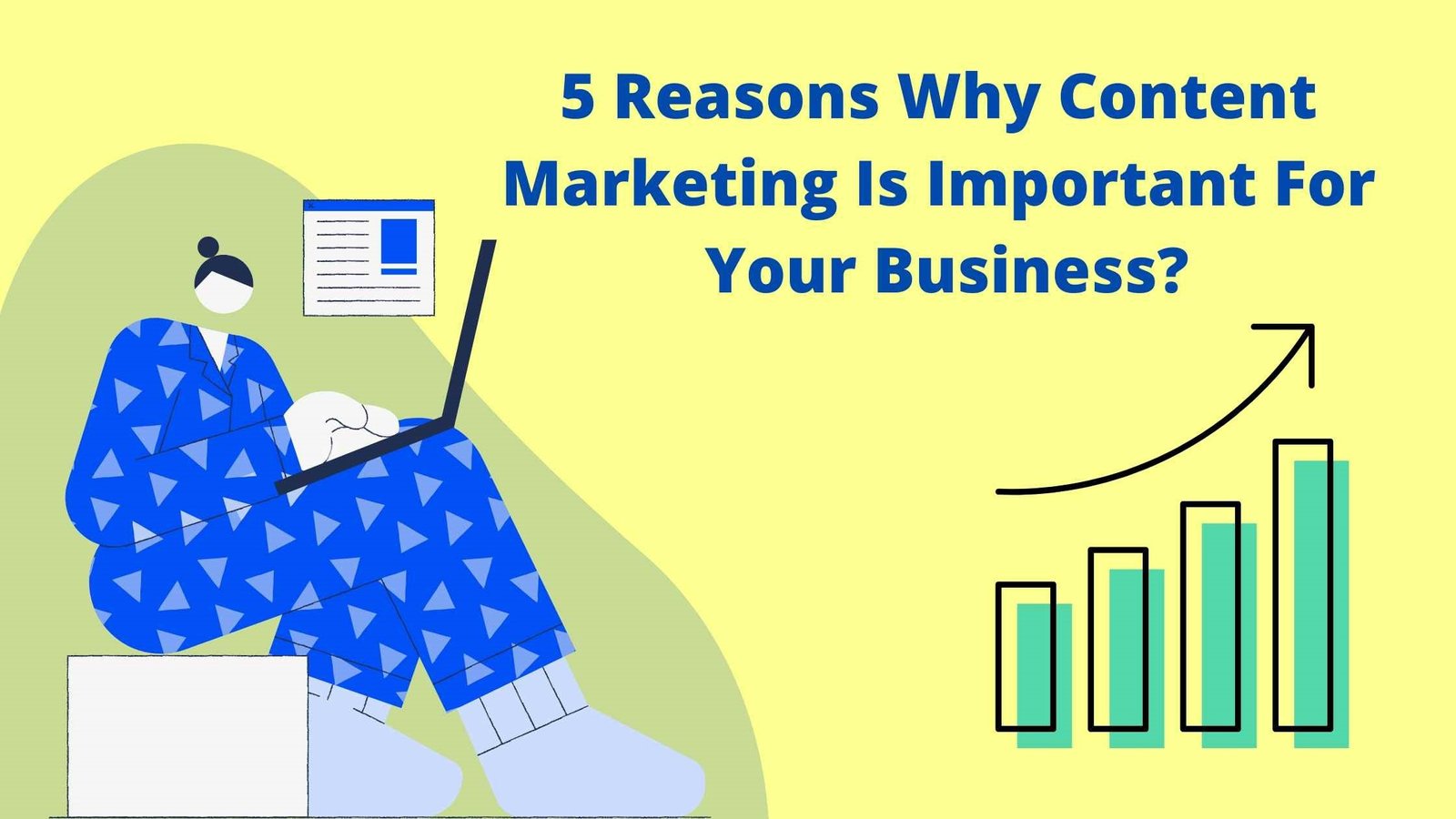 Why Content Marketing Is Important For Your Business?
In the present time, it's very important for any business to have a strong online presence. Afterall, we're living in the Information Age, where almost everything is governed by the Internet.
But how can you build a strong online presence?
Although there is more than one way, the best and the most effective is "content marketing".
Customers today have turned smarter than before. Paid ads and emotional gestures work instantly and will benefit in generating sales but for firm stand and branding, content marketing is the key.
"Mutual loyalty" is what your customers want. And "mutual loyalty" is what you need.
Content Marketing can easily help you build this loyalty. However, not all contents work. You need to have a proper content marketing strategy to make your content work for you. This comprises various factors including SEO.
In this article, we'll be discussing some important reasons for why Content Marketing should be your top marketing strategy to grow your business.
What is Content Marketing? and 
Content Marketing is a marketing strategy that aims to connect to its target audience by creating as well as sharing valuable and relevant content online. This content can be in the form of a blog, article, video, podcast, infographics, etc.
1.  
Content Marketing Can Turn Your Small Business Into a Brand.
Small businesses often find it hard to compete with the bigger brands and sustain in the market. But choosing content marketing as your top strategy gives you a greater control on this competition.
You need not fear the big brands that are already on the top. Make your content relevant and informative. And that's all that matters. The more people find your content helpful, the more free they will feel to take your services.  
Hence, to generate brand-awareness, you must follow proper content marketing strategy. It's quite important to create more and more content that ranks.
2.  
Improves Visibility
In the digital world, Google is everyone's personal advisor. Whether it's buying a product or learning to use it, we visit Google first. Hence, it's very important to be at the top of Google SERPs.
How can you do that?
By creating high quality content. At present, 77% of companies say they have a content marketing strategy.
It's because the reputation of a business is judged by the quality of the content that it creates. A big problem that small businesses face is that they fail to come in front of their customers. That is why they never get enough attention or recognition among the masses. But with content marketing this problem can be easily solved. Creating high quality content by keeping SEO & other factors in mind can help you get on the top of the Google SERPs. Thus, increasing your visibility.

3.  
Enhanced Chances of Lead Generation
Content is a quite effective tool to engage your targeted audience and make them your customers. A quality content has more influence on your audience than any paid tactics. It's more like a conversation between your customers and your brand. The more you solve their problems, the greater will be the trust between the two. If the reader can trust your brand, he is more likely to be your customer.
Moreover, well-optimised quality contents have higher chances to be found. Thus, it can drive more traffic. And this improves the chances of generating leads.
4.  Make Your Business Last Longer
Most small businesses die within a few years of their start. They only struggle to build authority and fail ultimately. So, what can you do to increase your business's lifespan?
One of the easiest and effective ways is to switch to content marketing. When you showcase your expertise through your content, the credibility of your brand increases.
Remember, it's the customer who makes or breaks a business's future. Through content marketing you get a chance to build long-lasting relationships with your customers. Once you succeed in doing so, no one can stop your business from flourishing. Customer's trust and support is all you need.
5. Less Investment, Greater Return
According to Content Marketing Institute, content marketing is 62% cheaper than outbound marketing and generates three times more leads.
 If you are starting at low-budget, content marketing can be the best strategy for you. You don't need a lot of money and resources to start with content marketing. In fact, in many ways it is better than paid advertisements. The customers that you gain through content marketing are much more reliable than the ones who come through an ad.
Also, you won't have to invest so much in promotions. With content marketing, you easily drive followers to your social media accounts. If your content has quality and is likeable, your users will automatically share and promote it across various social-media platforms.
Conclusion
All in all, content is king. I hope this article helped you understand that. Quality contents can do wonders for your business. But yeah, it's quite important to be consistent. Quality and consistency are the key factors in content marketing. So, be very careful with both of them. And if you still haven't started using "content marketing" for your business, start now. Let us know your experience!
About the author:
Sanya Singh  – Co-Founder of NxtDecade, a growing platform with futuristic blogs on various aspects of business and marketing. Connect with her on Twitter and LinkedIn.