Benefits of Shopify for eCommerce Website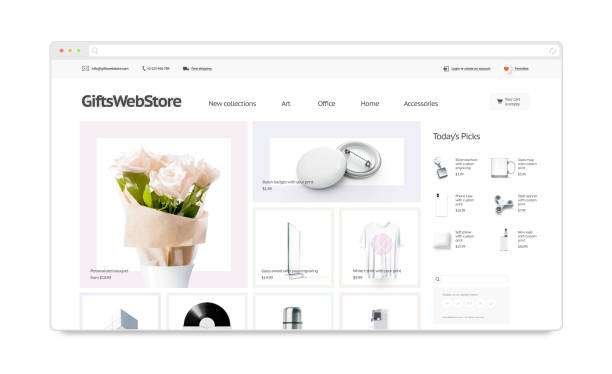 Over the years, e-Commerce has gained much more popularity and grown widely. The business scenario also has changed drastically. So we must upgrade and improve in every term to achieve success.  Moving towards the digital world people are becoming more connected. Thus the need arises to adapt new ways for conducting business.  Also, physical stores are not required to start a business. One can start by having an e-Commerce store wherein you can build a larger audience with great efficiency. One of the most beneficial and trustworthy hosted platforms for building eCommerce websites is Shopify. Let's take a overview of using Shopify for eCommerce website.
Why Choose Shopify for an E-commerce Website?
Website is the backbone of the entire e-Commerce business. Picking the right platform for an e-Commerce business is vital. Creating an online store can be complex because all may not be aware of online platforms. Most entrepreneurs use hosted platforms to make the business grow.  The hosted platforms are available in varied but Shopify is perfect for creating an e-commerce website or online store. It combines quality with functionality and provides efficiency. It is simplified so that it becomes easier for users. However, it is necessary to develop e-commerce stores that reflect the combination of aesthetics and functionality. So let's take a glance at the key benefits of using Shopify for eCommerce website.

Benefits of Shopify for E-commerce Website
Quick and easy to set up
Setting up Shopify is easy and has no complications. It does not require technical skills and can be easily set up without any lengthy procedures. One can also take help by going through the documentation before setting up.  Once you are done with watching tutorials, it can be set up within a few minutes. Shopify has a wide range of services making it easy for users having no expertise.  The admin interface is user- friendly makes it simple to use. So start now without any complexity.
It is Mobile friendly 
The best part of Shopify is its mobile-friendliness. As it is observed that a large number of users of e-commerce are mobile users. All the themes of Shopify are mobile-friendly which means it can be optimized as per the convenience. Also, updates are often done to give the best experience to mobile users. It is also easily manageable for both iOS and Android users.
SEO and marketing tools 
If you have no traffic it's not worth it to run an e-Commerce website. All that you need is more and more reach without spending a penny. With Shopify, your worry may end as it has marketing and SEO-friendly tools. This tool helps in reaching more users and lets you know where your users are coming from.  Numerous marketing tools include email marketing, media integration, and product reviews. To boost your website by taking advantage of SEO tools to rank higher.
Customer support
Not to worry when you need help at any point in time. Because Shopify is at customer support all round the clock. One can reach out for assistance by email, calls, or web chats. Shopify help center has community forums and documents that are also helpful. So keep your store running efficiently without any worries by using Shopify for eCommerce website creation.
Security and Reliability
While making e-Commerce transactions, many fear making payments. As it involves using confidential information such as credit card details. Therefore, the website is fast and secure and involves no error. So Shopify has SSL certification and PCI that helps in the encryption of data. Thus, ensure safety and security with Shopify as it will protect all your sensitive data.
Easy payment 
A big question arises for users while making payments as it is attached with personal details. But with Shopify is secure and reliable as it has payment gateways that will help to create safety. Shopify uses the Stripe payment option, which has no extra costs incurred for transactions.
App integration
To make your e-Commerce a success, Shopify is All in One Stop. Shopify has unique features which make it easy to integrate with multiple platforms. So by adding features you can work less and sell more at the same place. App integration can work wonders.
Customizations
Shopify enables several themes that are paid as well as free. You can choose what is suitable for your website. The best part is the themes are mobile-friendly. They can also be customized by editing the codes to create an eye-catching theme that will grow your brand identity.
No worries for technical setup
Shopify is easy to use which makes sense for many who do not have technical knowledge. Also, it is faster and more secure other than setting up. The great benefit is you do not have to worry about updating software as Shopify takes care of those technical things. So give all your attention to increasing sales without any worry.
Flexibility
The best part of Shopify is its adaptability. It can adapt to your business with multiple built-in tools. Through Shopify, you can showcase coupons, sale products, and also shipping options. You can also customize your store with themes that are professional and freely available.
Shopify and Digital Notebook
With the integration of Digital Notebook and Shopify, you can manage e-Commerce on a single platform. The best services combined bring the desired results. If you are planning to open an online store, it's the right time to get connected with best ecommerce website designing company in Noida.